• Alpine Spring Beauty • Bernie Nagy Photographer • Colorado Tourism • Colorado Wildflowers • Forget-Me-Nots • Goldflower • Mt Evans • Rocky Mountain Wildflowers Field Guide • Rocky Mountains
Mount Evans Highway, Colorado Highway 5, is now open to the public
 for the 2021 season. Reservations are required for vehicles. Enjoy seeing early alpine wildflowers and the antics of mountain goats at the top.
---
• Bernie Nagy Photographer • Colorado High country. • Colorado Life Magazine • Colorado Tourism • Colorado Wildflowers • Crested Butte • Crested Butte Wildflower Festival • Early summer wildflowers • Identifying Wildflowers • Indian Paintbrush • Linda Nagy Author • Mule's Ears • Pocket Field Guide • Rocky Mountain Columbine • Rocky Mountain Research Lab • Rocky Mountain Wildflowers Field Guide • Scarlet Gilia • Wild Iris • wildflower book • wildflower identification • Wildflower Photography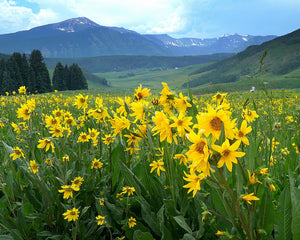 Colorado's wildflower season is starting early this year and there is no better place to see wildflowers than Crested Butte, the wildflower capital of Colorado.  
---
• 470 bypass • Alameda • Blanketflower • Colorado Tourism • Denver • Denver attractions • Denver Botanical Gardens • Early summer wildflowers • Foothills • Hiking Colorado • Lakewood • Mariposa Lily • Paintbrushes • photographing wildflowers • Red Rock State Park • Rocky Mountain wildflowers • Rocky Mountains • Southern Rockies • Spiderwort • wildflower book • wildflower identyfication • Wildflower Photography • Yucca
Green Mountain is where the Great Plains meet the foothills of the Rocky Mountains. Hayden Green Mountain Park in Lakewood has wildflower-lined bike and hiking trails and open meadows filled with flowers. There are also spectacular views of Denver and the Rocky Mountains. Only twenty minutes from Denver, this large park has over 2,400 acres to explore.  Last year in mid-June I took a Native Plant Master Course at the park. Our group learned common names, scientific names, family names, environmental relationships and uses for 40 to 50 plants.    Some of the stand out flowers from these field trips...