• 2020 Colorado wildflowers calendar • Alma • Bernie Nagy Photographer • Colorado Wildflowers • Fairplay • Fairplay boys and girls club • Fairplay library • Harebell • indian paint brushes • Linda Nagy Author • monkshood • owl clover • Rocky Mountain Wildflowers Field Guide • sulphur buckwheat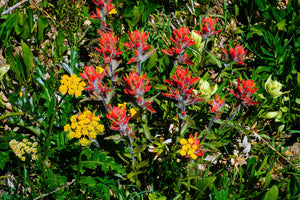 In July and August of this year, my husband and I volunteered for the Fairplay Library in Colorado to take groups on wildflower identification and photography hikes. The first hike was up Buckskin Gulch to Kite Lake. Paintbrushes, chiming bells, and mountain parsley were abundant. Around Kite Lake we saw marsh marigolds and alp lilies and many varieties of higher elevation wildflowers.   In August we hosted a group from the Boys and Girls Club. The hike was a path in Placer Valley along the Middle fork of the Platte River. Some stand out wildflowers were sulphur buckwheat, tall chiming...
---
• 2014 Moonbeam Award • 2014 USA Best Book Award • Bernie Nagy Photographer • Blanket Flower • Central Rockies • Colorado Native Plant Society • Colorado State Flower • Colorado Wildflowers • Harebell • Identifying Wildflowers • Linda Nagy Author • nature photography • Rocky Mountain Wildflower Field Guide • Rocky Mountain wildflowers • Rocky Mountains • Southern Rockies • wildflower identyfication • Wildflower Photography
In December 2015, Linda Nagy received her Colorado Flora Certificate. "While I was researching and writing Rocky Mountain Wildflowers Field Guide in 2013, I joined the Colorado Native Plant Society and began taking their scientific courses to increase my knowledge of the wildflower flora in Colorado. The Colorado Native Plant Society has excellent resources, data bases, and knowledgeable teachers to provide information on Colorado's more than 2500 different plant species," said Linda. In 2013, Linda began taking courses both indoors in classrooms and outdoors on nature trails and completed her work in 2015.      To earn the certificate it is necessary to...