• Alpine Spring Beauty • Bernie Nagy Photographer • Colorado Tourism • Colorado Wildflowers • Forget-Me-Nots • Goldflower • Mt Evans • Rocky Mountain Wildflowers Field Guide • Rocky Mountains
Mount Evans Highway, Colorado Highway 5, is now open to the public
 for the 2021 season. Reservations are required for vehicles. Enjoy seeing early alpine wildflowers and the antics of mountain goats at the top.
---
• Alpine Spring Beauty • Bernie Nagy Photographer • bristlecone pine trees • Colorado Wildflowers • Forget-Me-Nots • Goldflower • Identifying Wildflowers • Linda Nagy Author • Mt Evans • Rocky Mountain Wildflowers Field Guide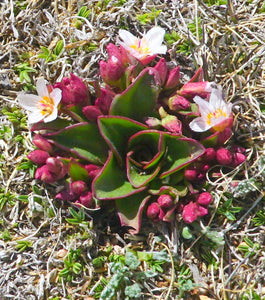 Even though wildflowers are blooming about 2 weeks late in the high country of Colorado this year, it appears it's going to be a great season for viewing the beauties. Recently Bernie and I went to Mount Evans and started our visit at the Dos Chapel Nature Center, that has an alpine flower garden built around it. We were amazed at the number of wildflowers beginning to bloom there. We met a volunteer who enthusiastically pointed out the Goldflower, Sky Pilot, Alpine Avens, Alpine Phlox and Snowball Saxifrage. We showed her our book, Rocky Mountain Wildflowers Field Guide that included...